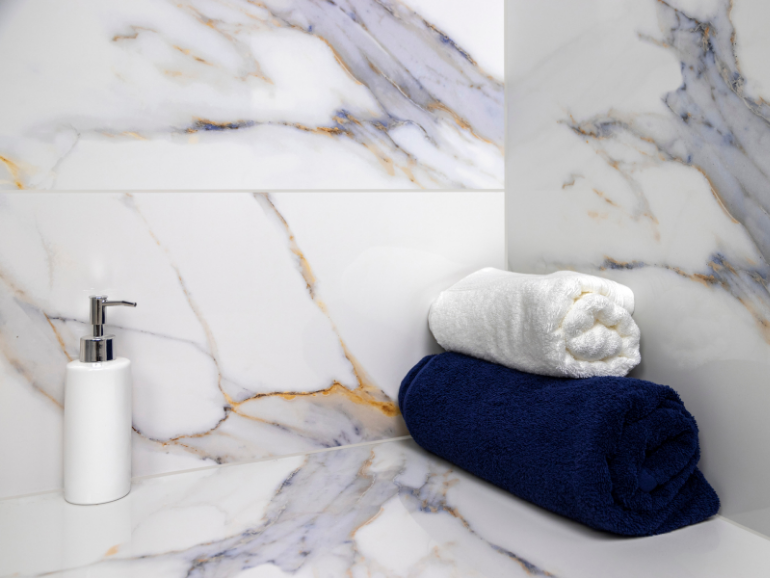 We know the results of the first vote in the Pearls of EU Ceramics 2021 competition. The CORIENTO BLUE collection by Ceramstic received the most votes, and the title of the Pearl of Ceramics by Designers, from users of CAD Décor 2021. This way CORIENTO BLUE defeated 23 collections taking part in the first round of the contest.
The CORIENTO BLUE collection was nominated in the category of wall and floor tiles. It is distinguished by its marble inspiration and grey-blue colours broken by gold. "Very well rendered character of natural stone, pleasing colours and formats. Excellent quality-to-price ratio, especially for the stoneware in the 60 x 120 cm format." – reviews the collection the quarterly magazine "Wokół Płytek Ceramicznych". The opinion is apparently shared by the users of our programmes, which they expressed in the vote.
CORIENTO BLUE tiles, as well as other collections participating in the voting, can be downloaded from our website. We will soon announce the next votes, and in December there will be the second part of the competition, in which architects will compete. Their task will be to design an interior using at least one winning collection. The competition project must be created using CAD Decor PRO or CAD Decor program.
Do you have questions about the PEARLS OF CERAMICS 2021 competition? Write to us or our partner (perlyceramiki@sigma-not.pl). Earlier editions of the competition and awarded projects can be found on our competition website → konkurs.plytkiceramiczne.info.pl