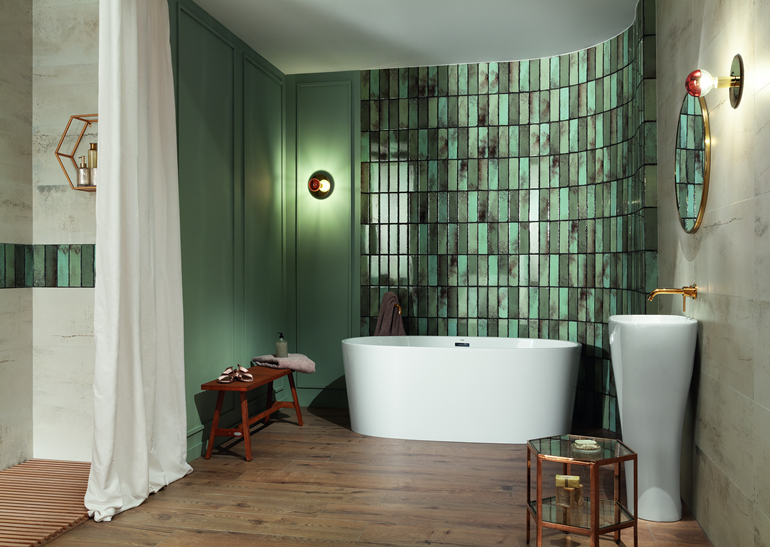 Another vote for the nominated pearls has ended. At the end of September, the jury chaired by Magdalena Kaliszuk-Barańska (interior architect, Section of Interior Architecture of the Association of Polish Artists and Designers) selected as many as 22 nominated collections. Users of our programs, on the other hand, were encouraged to familiarize themselves with them by using our "pearl" database, which can be downloaded from our databases page. Today we can announce the winner! The Curio collection of the Tubądzin Group won the second vote. Congratulations!
The Curio collection is a delicate beige complemented by contrasting bricks in a palette of blues and greens. As the manufacturer describes them, "atmospheric cotto with a modern twist." Tiles seemingly seem raw, like concrete or brick, only to discover their delicacy expressed in a beautiful color. They evoke nature, so they fit perfectly into the interior of the bathroom, our oasis of peace after a long day.
As in previous editions, we invite users of our programs to join the "pearl" competition. Each time we prepare a tile database for you with all nominated and awarded collections. Finally, a design plebiscite is organized. There are very attractive prizes to be won!
Thank you for voting
If you have questions about the PEARL OF CERAMICS 2020 competition and voting for the Pearl of Ceramics Designers – CAD Decor 2020 users, please send them to perlyceramiki@sigma-not.pl.