n 2005 we introduced a universal, free program for on-line designing of all kinds of interiors. From the very beginning our on-line visualizations became very popular among individual end-users and our business partners, for whom it is very important to present their products in a professional, innovative way. Power NET + 2012 is the latest version of this application, which is used by renowned Polish and foreign producers of furniture and ceramic tiles in their individually tailored versions, distributed on their websites or on CD disks together with their databases. See which companies and brands have trusted us so far.
It is also a perfect, easy to use and modern tool for everyone, who wants to begin their adventure with on-line designing! To be able to use it, you only need a computer and an Internet connection, it is that simple!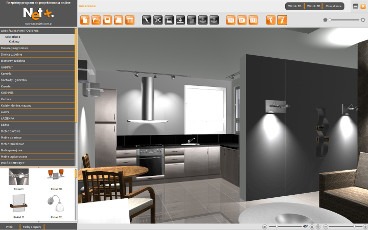 The functionality of Power NET + 2012
Operation in Power NET+ is highly intuitive, and the process of designing runs fast and easy. Our application enables you to create a realistic, 3-dimentional project within just a few minutes! Selected views of a designed room can be saved to a disk as picture files or printed. With Power NET+ you can create projects of kitchens, bathrooms, lounges, bedrooms and offices and many others, of various shapes and sizes, in 2D or 3D mode. In the newest version, apart from 3D models of furniture and appliances by CAD Projekt K&A. The newest version includes an extensive database of universal interior design elements, which contains over 1000 items, and is actualized all the time.